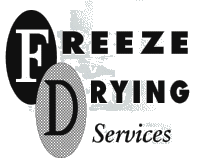 01293 871706
Enquiries@freezedrying.co.uk
Introductory Offer
Do you have an inoperable Freeze Dryer in need of service or repair?
Then our Introductory Offer may be of interest to you!
Freeze Drying Services would like to introduce an additional facility to their existing comprehensive service in offering repair of transportable freeze dryers sent to their workshops.
To promote this new facility we are offering free evaluations on the service and repair of laboratory freeze dryers.
We will carry out an inspection and provide you with a "fixed price" quotation. On acceptance we will complete the work within an agreed time-scale. If, however, we cannot agree on the cost involved, you will be able to arrange collection of your equipment without incurring any cost from FDS.
At the end of this introductory offer, FDS reserve the right to revert to their standard terms of business, which includes an inspection fee for equipment delivered to their workshops.